Furniture fit for NHS administration staff
Prism's office interiors division has been working in partnership with Frimley Health NHS Foundation Trust (FHFT) for many years, and was delighted to be involved in a major office refurbishment project at its Heatherwood Hospital. A former mental health block was being converted into offices to centralise the hospital's support services, including HR, finance, IT and communications. With 3,500m2 to furnish over two floors, our job was to work closely with the project's architects, BDP, to carefully design and plan the interior in line with FHFT's requirements.
Prism Interiors worked with FHFT's project team to understand how they wanted to utilise the office space. The primary objective was to maximise use of both floors whilst providing staff with comfort, convenience and flexibility in the way they worked. Our furniture solutions also had to take into consideration the architect's autumnal colour theme and materials strategy.
The site would bring together around 350 administration staff from across three hospitals - Frimley Park Hospital, Wexham Park Hospital and Heatherwood Hospital. Not all staff required permanent desks, so this extensive project included designing furniture schemes for open plan desk use and hot desking areas, as well as breakout spaces and meeting rooms.
Producing the furniture schematics to accommodate all FHFT's requirements across such a large office created many challenges. However, with an in-depth knowledge of the full scope of Senator's furniture range, Prism Interiors was able to design a furniture layout that accommodated all FHFT's requirements.
To provide staff with informal breakout areas, we included Haven Duo Pods and Mote Booths. These provide privacy without the need for separate meeting rooms. FHFT wanted to introduce and encourage hot desk and collaborative working, and this was achieved with Pause Benches and Silta High Tables.
To accommodate full time and regular staff that require permanent desks, banks of desks for between two and eight people were included, along with desktop power units to enable users to simply plug and go. A number of height adjustable electric workstations also provide users with the flexibility to stand or vary their posture whilst working, according to individual preferences.
Limiting the amount of personal storage in order to maximise the footprint for seating and desks was achieved by introducing lockers along with special locker storage boxes. These flat packed boxes are easily assembled and enable personal belongings and files to be securely housed in any locker, but quickly removed and transported back to the desk, thereby providing maximum worker flexibility. The lockers also perform the function of a visual and acoustic barrier/screen.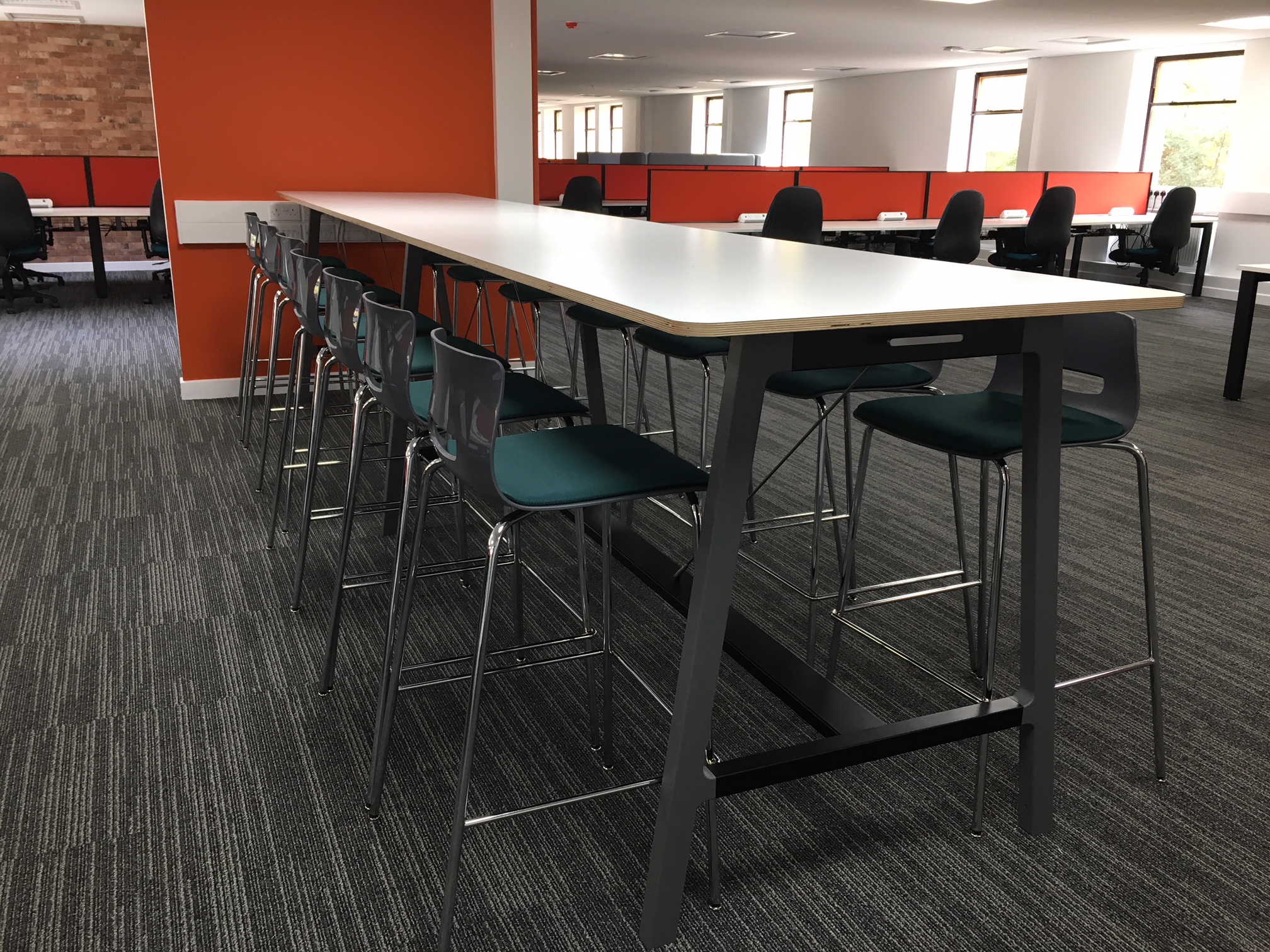 A positive outcome
The project team at FHFT was keen to ensure all staff were happy with Prism Interiors furniture suggestions and wanted to give them an opportunity to test the furniture. This was achieved by setting up a temporary showroom suite at each of the three hospitals, where administration staff could try out the furniture, ask questions and provide feedback.
The furniture was delivered and installed on time and the building is now fully operational. The new office gives individuals the freedom to migrate around the office, and the concept of agile working has been very well received. The space supports the needs of all employee working practices across different generations, enabling flexible working and promoting the use of modern technology.
Following the success of the Heatherwood Hospital office project, Prism Interiors won the furniture order to fit-out Wexham Park's new A&E building. This is part of a £49m project to build a new emergency department and assessment centre. We are delighted to have been awarded the contract and are working closely with FHFT to replicate the success of the furniture project at the Heatherwood Hospital.
If you are interested in talking about office furniture and would like to speak to a specialist, please call 0333 456 1501 or email interiors@prismoffice.co.uk
Share this article